BOSTON, MA – (BUSINESS WIRE) – Willow Laboratories announced today that it has been acquired by Ampersand Capital Partners. Willow is one of the country's leading clinical and forensic toxicology laboratories providing urine, hair and saliva testing services to a wide range of healthcare providers including treatment centers, physician practices and other laboratories. Using state-of-the-art technology, Willow provides qualitative and quantitative alcohol and drugs-of-abuse test results to aid clients in the diagnosis and treatment of substance abuse. Provident Healthcare Partners served as exclusive financial advisor to Willow Laboratories. The terms of transactions were not disclosed.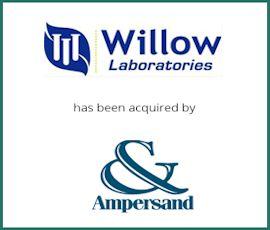 Jared Bartok, General Partner at Ampersand, commented that "Willow is another key piece of our strategy to invest in the multi-billion dollar toxicology lab industry. With the infusion of additional capital and management resources, Willow is well positioned to capitalize on future growth opportunities in the substance abuse market while implementing a zero tolerance compliance policy."
"Willow has long been a market leader within drugs-of-abuse testing. Willow's outstanding customer service and clinical expertise will be highly valued assets as Ampersand continues to build upon its platform in the laboratory testing space," commented Henry Cataldo, Associate at Provident Healthcare Partners.
About Willow Laboratories
Willow is a state and federally licensed clinical toxicology lab providing a broad spectrum of testing services for substance abuse rehabilitation providers to aid them in the diagnosis and treatment of drug and alcohol addiction. Founded in 1995 by Dr. Brian Strasnick, Willow performs millions of drug tests annually and has clients in 20 states. For more information visit the Willow website at www.willowlabs.com.
About Ampersand Capital Partners
Ampersand is a Boston-based private equity firm with a focus on middle market growth equity investments in the Healthcare sector. Ampersand leverages its unique blend of private equity and operating experience to build value and drive long-term performance alongside its portfolio company management teams. Ampersand's portfolio has included more than twenty years of successful investments in the specialty laboratory industry. For additional information on Ampersand Capital Partners please visit www.ampersandcapital.com.
About Provident Healthcare Partners
Provident is the leading investment banking firm specializing in merger and acquisition advisory, strategic planning, and capital formation for middle-market and emerging growth healthcare companies. The firm has a vast network of high-level, senior industry contacts, a thorough knowledge of market sectors and specialties, and unsurpassed experience and insight into the M&A process. Provident uncovers value and opportunities that others often overlook to create transaction premiums for its clients. For more information visit the Provident website www.providenthp.com.
Contact:
Provident Healthcare Partners
Boston, MA
Gina Leone, Analyst
617-742-9800
###
[holo_button icon="" link="/wp-content/uploads/2015/03/Willow-Press-Release.pdf" color="#003561″ target="blank"]PRINT/DOWNLOAD[/holo_button]