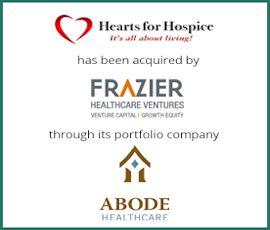 BOSTON, MA – (BUSINESS WIRE) – Hearts for Hospice, LLC, (Hearts) a provider of hospice and home health services to patients in Utah, Idaho, and Arizona, has been acquired by Abode Healthcare, a portfolio company of Frazier Healthcare. Hearts is a Medicare certified, and Medicaid approved organization providing end of life care to terminally ill patients and their families, as well as comprehensive restorative care to patients recovering from illnesses and injuries. The Company consists of several divisions including a hospice division (Hearts for Hospice) and a home health division (Hearts for Home Health). In additional to traditional home health and hospice services, Hearts provides non-emergency medical transportation services to its hospice patients and their families. Hearts has an excellent reputation in the healthcare community and throughout its service areas. Provident Healthcare Partners served as exclusive financial advisor to the Hearts for Hospice shareholders. The terms of transactions were not disclosed.
"Adobe Healthcare is the perfect fit for Hearts. Finding an ideal partner in terms of both strategy as well as cultural fit was not an easy task, and Provident played a major role in helping us to find that partner. Going forward, Hearts will be able to achieve much greater growth together with Adobe," stated Shaw Phillips, President and CEO of Hearts for Hospice.
"The owners of Hearts for Hospice have built a very strong and efficiently run hospice and home health company through a commitment to their patients and families they serve. Now, through this acquisition, Abode and Frazier will provide Hearts for Hospice with the resources it needs to maintain its focus on providing quality care while also achieving substantial growth," commented Justin Hand, Managing Director at Provident Healthcare Partners.
About Hearts for Hospice, LLC
Hearts for Hospice is headquartered in American Fork, Utah, and has been providing hospice and home health services to patients since 2003. Hearts for Hospice employs over 180 individuals, including nurses, physicians, nursing assistants, social workers, physical therapists, bereavement counselors, volunteer coordinators, administrators, coordinators, drivers, chaplains, music therapists, and office assistants. For more information visit the Hearts for Hospice website at www.heartsforhospice.com.
About Frazier Healthcare
Frazier Healthcare, founded in 1991 to invest exclusively in healthcare, is a leading provider of growth equity and venture capital to high growth and emerging healthcare companies. With over $1.8 billion under management across seven private investment funds, Frazier has invested in over 140 companies across the entire healthcare business development spectrum. For more information please visit the Frazier website at www.frazierhealthcare.com.
About Abode Healthcare
Abode Healthcare provides the full spectrum of home health and hospice treatment, thoughtfully tailored to patients and families, with focused attention given to individual needs and preferences. Abode strives to eliminate the reputation of generic, "one‑size‑fits‑all" healthcare from its patients' concept of medical care, and accomplishes this by adapting to their needs, including at-home physical therapy to recover from injury or surgery, chronic disease management care, homecare for patients with a terminal illness, or end-of-life hospice care. For more information please visit the Abode Healthcare website at www.abodehealthcare.com.
About Provident Healthcare Partners
Provident is the leading investment banking firm specializing in merger and acquisition advisory, strategic planning, and capital formation for middle-market and emerging growth healthcare companies. The firm has a vast network of high-level, senior industry contacts, a thorough knowledge of market sectors and specialties, and unsurpassed experience and insight into the M&A process. Provident uncovers value and opportunities that others often overlook to create transaction premiums for its clients. For more information visit the Provident website www.providenthp.com.
Contact:
Provident Healthcare Partners
Boston, MA
Gina Casiello, Corporate Marketing & Communications
617-742-9800
###
[holo_button icon="" link="/wp-content/uploads/2015/03/Hearts-for-Hospice-Press-Release.pdf" color="#003561″ target="blank"]PRINT/DOWNLOAD[/holo_button]