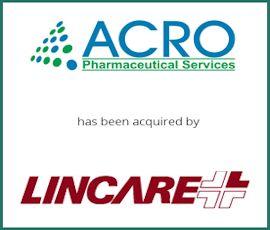 BOSTON, MA – Acro Healthcare, LLC, DBA Acro Pharmaceutical Services (Acro), has been acquired by Lincare Holdings, LLC. Acro is a premier Pharmacy Care Management company with a specific focus on the distribution and clinical aspects of high cost pharmaceutical products. Provident Healthcare Partners served as exclusive financial advisor to Acro.
Acro is a national specialty pharmacy with a unique, personalized service model that is focused on contracting with payor organizations to become an exclusive pharmacy provider or preferred pharmacy vendor. Acro has a URAC Accredited Operations Center and delivers innovative solutions to payors, such as Utilization Management by highly specialized staff. Additionally, Acro's success managing formulary in its managed markets, combined with customized services, results in market share improvements for manufacturers.
"Acro will serve as a great specialty platform acquisition for Lincare which we expect to have continued growth both organically and through add-on acquisitions," noted Michael Patton, Managing Director at Provident Healthcare Partners "We would expect to see Lincare leverage existing relationships and internal operations to expedite growth moving forward," continued Patton.
About Acro Healthcare, LLC
Acro is a specialty pharmacy delivering specialized utilization and therapy management services. Acro offers customized services and cost-effective healthcare management solutions to payors, pharmaceutical manufacturers, providers, and patients. For additional information on Acro Healthcare, LLC visit www.acropharmacy.com.
About Lincare Holdings, Inc.
Lincare Holdings, Inc. (NASDAQ: LNCR) provides respiratory care, infusion therapy, and medical equipment to patients in the home. Lincare manages over 1,000 centers in forty-eight states. The Company was founded in 1972 and is headquartered in Clearwater, Florida. For more information on Lincare please visit www.lincare.com.
About Provident Healthcare Partners
Provident is the leading investment banking firm specializing in merger and acquisition advisory, strategic planning, and capital formation for middle-market and emerging growth healthcare service companies. The firm has a vast network of high-level, senior industry contacts, a thorough knowledge of market sectors and specialties, and unsurpassed experience and insight into the M&A process. Provident uncovers value and opportunities that others often overlook to create transaction premiums for its clients. For additional information on provident please visit www.providenthp.com.
Contact:
Provident Healthcare Partners
Boston, MA
Gina Leone, Analyst
(617) 742-9800
###
[holo_button icon="" link="/wp-content/uploads/2015/03/Acro-PR.pdf" color="#003561″ target="blank"]PRINT/DOWNLOAD[/holo_button]