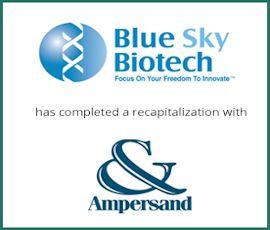 BOSTON, MA – Blue Sky Biotech, Inc. has completed a recapitalization with Boston-based private equity firm Ampersand Ventures. Blue Sky Biotech, based in Massachusetts, is a Contract Research Organization (CRO). The financial terms of the deal were not disclosed. Provident Healthcare Partners acted as exclusive financial advisor to Blue Sky Biotech.
Founded in 2003, Blue Sky Biotech aims to alleviate the onerous and labor-intensive tasks that take scientists away from key experimentation, novel theory exploration and other optimal uses of their time. Blue Sky is synonymous with productivity in the early discovery biology processes known as genetic cloning, recombinant protein expression and laboratory-scale fermentation (scale-up bioprocessing).
"Blue Sky Biotech has experienced rapid growth over the past few years, and the time had come for them to find a partner to help them reach the next level of growth. Blue Sky found the perfect partner in Ampersand and will be able to leverage Ampersand's extensive experience within the healthcare industry, and more specifically their experience within the preclinical research setting," commented Greg Wappett, Senior Analyst at Provident Healthcare Partners.
Paul Wengender, Founder and CEO of Blue Sky Biotech commented on Provident and their role in the transaction. "Provident was an important catalyst behind our exciting partnership with Ampersand and offered valuable advice and leadership during the entire process."
Peter Glick, General Partner at Ampersand Ventures, added, "We're very excited to become Blue Sky's partner. The company has all of the key ingredients for success in pharma services: strong scientific expertise, a relentless focus on service levels, and a management team deeply committed to helping biotech clients speed their development process."
About Blue Sky Biotech, Inc.
Blue Sky Biotech, Inc. is a Contract Research Organization (CRO) in the pharmaceutical R&D market. Blue Sky offers three linked laboratory service segments: Molecular Biology, Tissue Culture/Fermentation, and Protein Sciences (including biochemistry). Blue Sky is motivated by its ability to impact the overall efficiency of the drug discovery process, thus contributing to a longer, healthier lifespan for human beings. For additional information on Blue Sky Biotech please visit www.blueskybiotech.com.
About Ampersand Ventures
Ampersand Ventures is a Boston-based, middle market private equity firm focused on the healthcare and industrial sectors, with a concentration on companies that have attractive, long-term growth prospects. Ampersand's healthcare portfolio includes manufacturers and marketers of innovative laboratory instruments and consumables, specialty diagnostic testing laboratories, providers of outsourced services for pharmaceutical and medical device development and manufacturing, and companies that develop, manufacture and sell specialty pharmaceutical products. For additional information on Ampersand Ventures please visit www.ampersandventures.com.
About Provident Healthcare Partners
Provident is the leading investment banking firm specializing in merger and acquisition advisory, strategic planning, and capital formation for middle-market and emerging growth healthcare service companies. The firm has a vast network of high-level, senior industry contacts, a thorough knowledge of market sectors and specialties, and extensive experience and insight into the M&A process. Provident continually uncovers value and opportunities that others often overlook to consistently create transaction premiums for its clients. For more information on Provident please visit www.providenthp.com.
Contact:
Provident Healthcare Partners
Boston, MA
Gina Leone, Analyst
(617) 742-9800
###
[holo_button icon="" link="/wp-content/uploads/2015/03/Blue-Sky-Final-PR.pdf" color="#003561″ target="blank"]PRINT/DOWNLOAD[/holo_button]