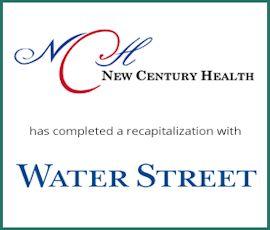 Water Street Healthcare Partners, a strategic private equity firm focused exclusively on healthcare, has made a majority investment in New Century Health (NCH). Founded in 2002, NCH is a specialty benefit management company that is focused primarily on oncology and cardiology. Water Street is committed to expanding the Company's services to a broader base of payors, providers, and patients nationwide. Provident Healthcare Partners served as exclusive financial advisor to the NCH shareholders. The terms of the transactions were not disclosed.
New Century Health has an established platform and reputation, and paired with the resources provided by Water Street, NCH will be able to better position itself to reach its full potential. Water Street will leverage its experience investing in healthcare companies to foster the continued growth of the Company. In addition to Water Street's seasoned team of investment professionals, Water Street benefits from the Company's relationship with their operating partners such as Steve Cosler, former CEO of Priority Healthcare. "The recapitalization of New Century Health with Water Street is proof of the significant interest of private equity firms in the healthcare services industry. With the Company's superior management teams and dominant market presence, NCH fits perfectly within the investment criteria of Water Street," said Robert Ciardi, Managing Partner of Provident Healthcare Partners.
This acquisition is Water Street's fourth proprietary investment in outsourced payor services. Water Street's portfolio also includes CareCentrix, Inc., Access MediQuip, LLC, and HealthPlan Holdings, Inc.
About New Century Health
New Century Health integrates and streamlines all outpatient components of care in the oncology and cardiology specialties. Through its proprietary technology platform, New Century connects health plans, physicians and patients to coordinate care and improve quality in a cost-effective fashion. In the past three years, New Century Health has grown its revenues more than 200 percent. For more information visit the New Century Health website at www.newcenturyhealth.com.
About Water Street Healthcare Partners, LLC
Water Street Healthcare Partners is a strategic private equity firm focused exclusively on healthcare. The firm has a strong record of building market-leading companies across key growth sectors in healthcare. It has partnered with some of world's leading healthcare companies on its investments including Johnson & Johnson, Medtronic and Smith & Nephew. Water Street's team is comprised of industry executives and private equity professionals with decades of experience investing in and operating global healthcare businesses. The firm is headquarters in Chicago. For more information visit the Water Street website www.wshp.com.
About Provident Healthcare Partners
Provident is the leading investment banking firm specializing in merger and acquisition advisory, strategic planning, and capital formation for middle-market and emerging growth healthcare service companies. The firm has a vast network of high-level, senior industry contacts, a thorough knowledge of market sectors and specialties, and unsurpassed experience and insight into the M&A process. Provident uncovers value and opportunities that others often overlook to create transaction premiums for its clients. For more information visit the Provident website www.providenthp.com.
Media Contact:
Provident Healthcare Partners
Boston, MA
Gina Casiello, Corporate Marketing & Communications
617-742-9800
###
[holo_button icon="" link="/wp-content/uploads/2015/03/New-Century-Health-Press-Release.pdf" color="#003561″ target="blank"]PRINT/DOWNLOAD[/holo_button]