BOSTON, MA – (BUSINESS WIRE) – Hospice Advantage Inc. has completed a recapitalization with Sentinel Capital Partners. Hospice Advantage is a Medicare, Medicaid Certified hospice and homecare program providing superior end-of-life care and skilled nursing services. Hospice Advantage currently has 56 hospice locations across 10 states throughout the Midwest, Southeast and South. Provident Healthcare Partners served as exclusive financial advisor to Hospice Advantage. The terms of the recapitalization were not disclosed.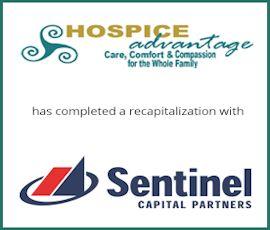 "We are very pleased to partner with Sentinel as we take our company into its next stage of development," said Rod Hildebrant, Hospice Advantage's founder and president. "Their proven expertise in healthcare services made Sentinel our partner of choice. We very much look forward to working with our new partners at Sentinel and continuing our leadership in the hospice community."
"Provident Healthcare Partners was pleased to represent Hospice Advantage in completing this landmark acquisition in the hospice industry," commented Robert Ciardi, Managing Partner of Provident Healthcare Partners. "Under the leadership of Rod Hildebrant, Hospice Advantage has become one of the fastest growing hospice companies in the country, and its strong national presence creates an ideal hospice platform for Sentinel Capital Partners. Partnering with Sentinel will allow Hospice Advantage to continue to expand operations, while remaining a provider of superior end-of-life care to those in need."
About Hospice Advantage
Hospice Advantage is a leading hospice care organization that provides end-of-life care, palliative treatment, personal care, and family support services, primarily to patients in their homes. Headquartered in Michigan, Hospice Advantage was founded to better serve the needs of terminally ill patients and currently operates in 56 locations in 10 states. For more information about Hospice Advantage, please visit www.hospiceadvantage.net.
About Sentinel Capital Partners
Sentinel Capital Partners specializes in partnering with entrepreneurial executives to buy and build lower middle market companies in the United States and Canada. Sentinel targets eight industry sectors: aerospace/defense, business services, consumer, distribution, food/restaurants, franchising, healthcare, and industrials. Sentinel invests in management buyouts, purchases of family businesses, corporate divestitures, going-private transactions, and special situations of businesses with EBITDA between $7 million and $35 million. For more information about Sentinel, please visit www.sentinelpartners.com.
About Provident Healthcare Partners
Provident is the leading investment banking firm specializing in merger and acquisition advisory, strategic planning, and capital formation for middle-market and emerging growth healthcare companies. The firm has a vast network of high-level, senior industry contacts, a thorough knowledge of market sectors and specialties, and unsurpassed experience and insight into the M&A process. Provident uncovers value and opportunities that others often overlook to create transaction premiums for its clients. For more information visit the Provident website www.providenthp.com.
Contact:
Provident Healthcare Partners
Boston, MA
Gina Leone, Analyst
617-742-9800
###
[holo_button icon="" link="/wp-content/uploads/2015/03/HA-Press-Release.pdf" color="#003561″ target="blank"]PRINT/DOWNLOAD[/holo_button]