BOSTON, MA – 6N Systems, Inc. (6N), a subsidiary of Village Care Of New York, Inc. (VillageCare), has been acquired by SigmaCare. SigmaCare is a portfolio company of Marlin Equity Partners. 6N provides a fully integrated suite of Electronic Medical Record (EMR) and financial software for the long term care market, allowing an organization to track and measure performance for financial health; identify and address issues for improved quality; and better manage clinical and financial outcomes. Provident Healthcare Partners served as exclusive financial advisor to 6N. The terms of the transaction were not disclosed.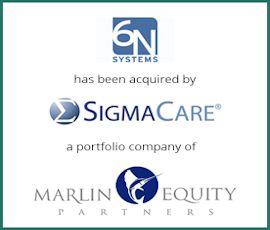 "Provident was excited at the opportunity to represent 6N Systems, a leading provider of EMR and financial solutions to the long term care market, one of the largest and fastest growing sectors of healthcare. The partnership with SigmaCare allows the 6N team to continue to expand their solutions across a wide network of clients and also leverage the operational expertise of SigmaCare," commented Greg Wappett, Senior Associate at Provident Healthcare Partners.
"6N found the ideal partner in SigmaCare, and will be able to continue its rapid growth through this new partnership. Marlin's recent investment in SigmaCare substantially increases the growth opportunities available to 6N Systems moving forward," noted Sarita Gavhane, Director at Provident Healthcare Partners.
"We are pleased that the partnership between SigmaCare and 6N will help them better serve their clients. 6N provides a comprehensive Electronic Medical Records system, and we are excited about its growth potential," said Emma DeVito, President and Chief Executive of Officer of VillageCare.
About 6N Systems, Inc.
Founded in 2002 and headquartered in Clifton Park in New York's Tech Valley, 6N Systems provides a fully integrated suite of EMR and financial software for the long term care market. 6N's dedicated team has over 20 years' experience in long term healthcare clinical and financial management. 6N works with clinicians and financial managers at all levels to help design its software, ensuring it is user-friendly and relevant to the specific needs of LTC. For more information about 6N, please visit www.6nsystemsinc.com.
About SigmaCare
SigmaCare develops and markets innovative, best-in-class clinical solutions for long-term and post-acute care (LTPAC) facilities that lower risk, reduce rehospitalizations, decrease costs and increase reimbursement. SigmaCare automates the complete workflow, delivers clinical decision support, integrates with third-party providers and improves coordination across care settings. SigmaCare's hands-on professional services drive adoption and a rapid return on investment with a proven implementation methodology and consulting services. For more information about SigmaCare, please visit www.sigmacare.com.
About Marlin Equity Partners
Marlin Equity Partners is a global private investment firm with over $2.6 billion of capital under management. The firm is focused on providing corporate parents, shareholders and other stakeholders with tailored solutions that meet their business and liquidity needs. Marlin invests in businesses across multiple industries where its capital base, industry relationships and extensive network of operational resources significantly strengthens a company's outlook and enhances value. Since its inception, Marlin, through its group of funds and related companies, has successfully completed over 60 acquisitions. The firm is headquartered in Los Angeles, California with an additional office in London. For more information, please visit www.marlinequity.com.
About Provident Healthcare Partners
Provident is the leading investment banking firm specializing in merger and acquisition advisory, strategic planning, and capital formation for middle-market and emerging growth healthcare companies. The firm has a vast network of high-level, senior industry contacts, a thorough knowledge of market sectors and specialties, and unsurpassed experience and insight into the M&A process. Provident uncovers value and opportunities that others often overlook to create transaction premiums for its clients. For more information visit the Provident website www.providenthp.com.
Contact:
Provident Healthcare Partners
Boston, MA
Gina Leone, Analyst
617-742-9800
###
[holo_button icon="" link="/wp-content/uploads/2015/03/6N-Press-Release1.pdf" color="#003561″ target="blank"]PRINT/DOWNLOAD[/holo_button]