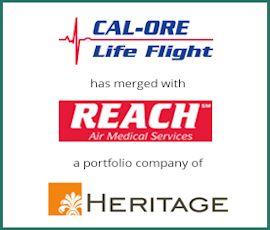 BOSTON, MA – Cal-Ore Life Flight has merged with REACH Medical Holdings, Inc., a portfolio company of Heritage Partners, Inc. Cal-Ore is a leading provider of air and ground medical transportation services. Provident Healthcare Partners served as the exclusive financial advisor to Cal-Ore Life Flight.
Cal-Ore provides prompt, caring, and dependable ground and air transportation between healthcare facilities for people in medical emergencies. Cal-Ore ground and flight ambulance transports are available twenty-four hours a day, seven days a week. Cal-Ore also provides non-emergency medical transportation. Over the past decade, Cal-Ore Life Flight has responded to over 40,000 air and ground ambulance calls.
"The merger between Cal-Ore and REACH demonstrates the significant interest we are seeing in the marketplace for medical transport companies," commented Justin Hand, Managing Director at Provident Healthcare Partners. "REACH operates in central Oregon and southern California, and Cal-Ore operates in southern Oregon and northern California making it the perfect fit for REACH," continued Justin.
"The combined entity creates a dominant provider of these services on the West Coast. We are excited to see how the combined entity further strengthens REACH's position in this competitive marketplace," stated Bob Ciardi, Managing Partner at Provident.
Taking a seat on the REACH Medical Holdings board of directors, Dan Brattain, President and CEO of Cal-Ore Life Flight says of the merger, "The combined companies will provide enhanced emergency and critical care transport services to our customers through the integration of ground, airplane, and helicopter services. This comprehensive offering will be managed through REACH's First Call regional referral center. The merger will help solidify the companies' strong growth opportunities with key healthcare systems, hospitals, and communities. To say this is important to us and the communities we serve would be an understatement."
About Cal-Ore Life Flight
Headquartered in Brookings, Oregon, Cal-Ore has six locations in Southern Oregon and Northern California. The Company has nine aircrafts and eight ambulances. In addition to ground and flight ambulance transports, Cal-Ore provides non-emergent wheelchair van transports. For additional information on Cal-Ore Life Flight visit www.cal-ore.com.
About REACH Medical Holdings, Inc.
REACH Air Medical Services, headquartered in Santa Rosa, California, provides helicopter and airplane patient transportation for critically ill or injured patients. REACH has bases in Concord, Imperial, Lakeport, Marysville, Redding, Sacramento, Santa Rosa, Stockton, Thermal, and Upland, California, as well as Corvallis, Oregon and San Antonio and Houston, Texas. For more information on REACH please visit www.reachairambulance.com.
About Heritage Partners, Inc.
Heritage is a leading private equity investment firm dedicated to the equity-based recapitalization of private, middle market family-owned businesses. Since 1987, the team has assembled a diversified portfolio of over fifty investments with aggregate revenues of more than $3.5 billion. For more information on Heritage please visit www.heritagepartnersinc.com.
About Provident Healthcare Partners
Provident is the leading investment banking firm specializing in merger and acquisition advisory, strategic planning, and capital formation for middle-market and emerging growth healthcare service companies. The firm has a vast network of high-level, senior industry contacts, a thorough knowledge of market sectors and specialties, and unsurpassed experience and insight into the M&A process. Provident uncovers value and opportunities that others often overlook to create transaction premiums for its clients. For additional information on provident please visit www.providenthp.com.
Contact:
Provident Healthcare Partners
Boston, MA
Gina Leone, Analyst
(617) 742-9800
###
[holo_button icon="" link="/wp-content/uploads/2015/03/Cal-Ore-PR.pdf" color="#003561″ target="blank"]PRINT/DOWNLOAD[/holo_button]