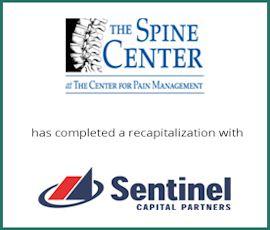 The Spine Center has completed a recapitalization with New York-based private equity firm Sentinel Capital Partners. Located in Maryland, The Spine Center provides various medical and professional services within the interventional pain management (IPM) specialty. The Spine Center family of companies is comprised of nine clinical locations providing comprehensive spinal care services throughout major metropolitan areas in Maryland, and in addition, the Company offers professional practice management services for independent IPM groups. The main service components of the combined organization include providing medically-necessary and minimally-invasive spinal procedures and ancillary services in ambulatory settings as well as providing billing and credentialing services, and facilities and operations management. Provident Healthcare Partners served as exclusive financial advisor to The Spine Center.
"The partnership with Sentinel Capital Partners will allow The Spine Center to accelerate its growth to continue serving those who suffer from chronic spinal and back pain. With the group's focus on utilizing minimally-invasive procedures in a lower-cost ambulatory setting, The Spine Center is well-positioned to continue its growth as a market leader focused on providing quality care," noted William Tao, Senior Analyst at Provident Healthcare Partners.
"The Spine Center has been experiencing rapid growth over the past few years, and through its partnership with Sentinel, The Spine Center is now positioned for long term growth through both de novo and add-on acquisitions," commented Robert Ciardi, Managing Partner at Provident Healthcare Partners.
Dr. Bobby Dey, CDO of The Spine Center stated, "Provident provided critical analysis, guidance and leadership for the entire private equity partnership process. Their hard work helped increase the valuation of our organization. Provident remained focused, organized and motivated throughout the entire process which led to a successful deal closing."
"In order to achieve our objectives we required a seller's banker that offered creative solutions and the highest chances of transaction closure. Provident was the perfect team," said Dr. Marc Loev, President of The Spine Center. "The depth of Providence's expertise enabled our organization to achieve everything we had hoped for. They took us to market and obtained not only the highest valuation but the perfect equity partner for our company. We set a very high bar. Provident exceeded it. We cannot imagine anyone working as hard as Provident did on our behalf," added Dr. Loev.
"Provident provided the perfect blend of experience and professionalism guiding our private equity deal to completion. We would not have been successful navigating the process without their hard work and active participation," remarked Dr. Les Zuckerman, CMO of The Spine Center. "They brought high quality PE groups to the table. Getting the right financial terms for us was just as important to the Provident team as finding the right match for our company's long-term needs. They exceeded our expectations and we would highly recommend them to any health care company seeking a knowledgeable and engaged investment banking firm," added Dr. Les Zuckerman.
Stein Sperling PC acted as exclusive legal advisor to The Spine Center. Don Sperling, Partner at Stein Sperling, commented, "Bob Ciardi and Provident Healthcare Partners brought the perfect team of talented professionals to guide our clients from inspiration through the closing. Provident combined its deep experience together with a complete understanding of the company, industry and market in order to make it happen. A lot of investment bankers were interviewed, Provident was chosen. Provident delivered. My clients could not be happier."
The terms of the transaction were not disclosed.
About The Spine Center
The Spine Center was established in 1998 by three founding partners: Doctors Bobby Dey, Marc Loev, and Les Zuckerman. The Spine Center family of companies operates nine clinical offices and ambulatory surgery centers in the state of Maryland and also provides extensive practice management services. Since its inception, The Spine Center has treated over 75,000 patients. Its therapies have become a standard in the treatment of pain from spinal origin and its clinical professionals and facilities offer the full range of minimally-invasive IPM procedures to relieve back and neck pain.
About Sentinel Capital Partners
Sentinel Capital Partners specializes in buying and building lower middle market companies in the United States and Canada in partnership with management. Sentinel targets eight industry sectors—aerospace/defense, business services, consumer products/services, distribution, food/restaurants, franchising, healthcare products/services, and industrial manufacturing. Sentinel invests in management buyouts, purchases of family businesses, recapitalizations, corporate divestitures, and going-private transactions of established businesses with EBITDA between $7 million and $35 million. For more information about Sentinel, visit www.sentinelpartners.com.
About Stein Sperling Bennett De Jong Driscoll PC
Stein Sperling, located in Rockville, Maryland, strives to be an extremely well-balanced law firm, providing a broad range of services to meet the business and personal needs of an even broader range of clients. Stein Sperling's practice areas include business law, civil litigation, criminal law, employment law, estates and trusts, family law, injury law, municipal law, real estate law, and tax law. For more information on Stein Sperling please visit www.steinsperling.com.
About Provident Healthcare Partners
Provident is the leading investment banking firm specializing in merger and acquisition advisory, strategic planning, and capital formation for middle-market and emerging growth healthcare service companies. The firm has a vast network of high-level, senior industry contacts, a thorough knowledge of market sectors and specialties, and extensive experience and insight into the M&A process. Provident continually uncovers value and opportunities that others often overlook to consistently create transaction premiums for its clients. For more information on Provident please visit www.providenthp.com.
Contact:
Provident Healthcare Partners
Boston, MA
Gina Casiello, Corporate Marketing & Communications
(617) 742-9800
###
[holo_button icon="" link="/wp-content/uploads/2015/03/TSC-PR.pdf" color="#003561″ target="blank"]PRINT/DOWNLOAD[/holo_button]