BOSTON, MA – Comprehensive Pain Management, PC (CPM) has completed a merger with Interventional Management Services (IMS). CPM is a non-invasive pain management company, operating nine clinical offices in Georgia, most of which have a co-located ambulatory surgery center. Provident Healthcare Partners served as the exclusive financial advisor to Comprehensive Pain Management. The terms of the transaction were not disclosed.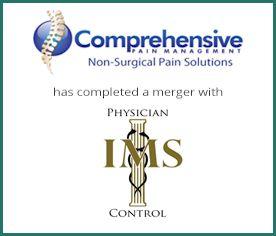 "Drs. Rajesh Patel and Jaimini Davé have built a unique model of care focused on offering a full spectrum of interventional pain ting best practices across its Georgia operations while also replicating its highly efficient model of care in key markets throughout the U.S."
"It was a pleasure to work with CPM, as the company has earned an excellent reputation among its peers and patient base as a high quality clinically sound provider. We believe the combination of IMS and CPM will create the clear market leader in the greater Atlanta area," noted Michael Patton, Managing Director at Provident Healthcare Partners.
About Comprehensive Pain Management
The sole purpose of Comprehensive Pamanagement and ancillary services under one roof," commented Eric Major, Analyst at Provident Healthcare Partners. "The partnership between CPM and IMS creates an organization better positioned to serve its patient population through instituin Management group is to offer the best team of pain physicians in the Atlanta area in a variety of locations convenient to all Atlanta residents. CPM's nine offices are located in Austell, Canton, Roswell, Douglasville, Carrollton, Dallas, Dawsonville, Lawrenceville, and Villa Rica, Georgia. CPM provides treatment for most all types of pain, the majority being neck, back, extremities, and headaches. The Company's goal is to treat patients without the need for surgery. CPM also treats patients who have had surgery, but has failed to provide enough relief. For more information please visit: www.atlantapainmanagementcenters.com.
About Interventional Management Services
Interventional Management Services is a physician-owned ambulatory surgery center management and development company located in Atlanta, Georgia. IMS provides management services to Ambulatory Surgery Centers with a physician-focused strategy. Centers managed by IMS range from small, one-room, single-specialty ASCs to large, multi-specialty, physician- hospital joint ventures. Partnering with IMS brings stability, reliability and support to existing surgery centers. For more information please visit: www.physiciancontrol.com.
About Provident Healthcare Partners
Provident is the leading investment banking firm specializing in merger and acquisition advisory, strategic planning, and capital formation for middle-market and emerging growth healthcare companies. The firm has a vast network of high-level, senior industry contacts, a thorough knowledge of market sectors and specialties, and unsurpassed experience and insight into the M&A process. Provident uncovers value and opportunities that others often overlook to create transaction premiums for its clients. For more information visit the Provident website www.providenthp.com.
Contact:
Provident Healthcare Partners
Boston, MA
Gina Leone, Analyst
617-742-9800
###
[holo_button icon="" link="/wp-content/uploads/2015/03/CPM-PR1.pdf" color="#003561″ target="blank"]PRINT/DOWNLOAD[/holo_button]