Joint Commission resumes surveys & more — 10 ASC industry notes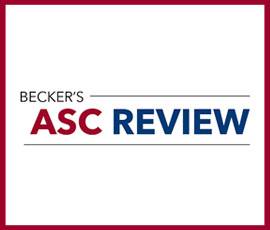 Here are 10 updates on ASC companies and industry-relevant companies to note:
The Joint Commission is one of several accreditation organizations that will resume performing regular surveys in June.
Nashville, Tenn.-based Envision Healthcare is investing in "a more efficient and accessible hybrid model of care delivery" as in-person visits gradually resume. Read more.
Exton, Pa.-based US Digestive Health expanded its presence in Pennsylvania by partnering with Carlisle (Pa.) Digestive Disease Associates.
To access the full article, click on the following link: Joint Commission resumes surveys & more — 10 ASC industry notes
About Becker's ASC Review
Becker's ASC Review features general business, legal and clinical guidance on topics relevant to outpatient surgery including joint-ventures, development and expansion, and regulatory and compliance issues; as well as analysis and insight for specialties including bariatrics, orthopedics and spine, gastroenterology, neurosurgery, ophthalmology, ENT and anesthesiology. Each of the nine annual issues of the publication reaches a qualified audience of more than 25,000 key ASC leaders, including surgeons, medical directors, directors of surgery and ASC administrators. Further, every ASC in the nation receives Becker's ASC Review. Visit Becker's ASC Review at https://www.beckersasc.com/.