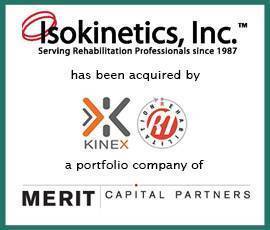 Isokinetics, Inc. (Isokinetics) has been acquired by Kinex R&M Holdco, LLC (Kinex), a portfolio company of Merit Capital Partners (Merit).  Isokinetics is an HME provider specializing in Continuous Passive Motion (CPM), Dynamic and Static Progressive Splints, Electrotherapy, LSO Back Braces, Cervical and Lumbar Traction, and Home Sequential Compression Devices for the home orthopedic patient.  Isokinetics markets its products and services to physicians, hospitals, and outpatient rehabilitation facilities and provides services in nine states.  Provident Healthcare Partners served as the exclusive financial advisor to Isokinetics.  The terms of the transaction were not disclosed.
"From the start of our relationship with Provident, I was very impressed with their professionalism.  Provident always treated this transaction as if it was the largest transaction they were doing.  The Provident team was very helpful throughout the entire process, and instrumental in bringing the transaction to a successful close," stated Mike Salem, founder of Isokinetics.
About Isokinetics
Isokinetics began in 1987 with one sales rep in Arkansas, selling home physical therapy equipment to rural clinics that the "big companies" did not bother calling on.  From working with them, Isokinetics formed its philosophy of always treating the customer as they would like to be treated – courteously and promptly, and offering products at a fair price. It was those customers that returned repeatedly and helped Isokinetics grow into a company with a direct sales force serving 9 states in the Midwest, a comprehensive print catalog, and a website selling at discount prices nationwide. Isokinetics has served hundreds of clinics and hundreds of thousands of individuals since its inception almost 25 years ago. Although the Company is growing, Isokinetics strives to never treat its customers like it's a "big company." For more information please visit: www.isokineticsinc.com.
About Kinex R&M Holdco
Headquartered in Waukesha, Wisconsin, Kinex is a provider of FDA approved Phase I post-operative orthopedic rehabilitation products and services.  Kinex is one of the largest recognized providers in the industry and maintains contracts with many of the largest insurance companies in the United States.  Kinex distributes its products through an extensive network of exclusive distributors nationwide. Headquartered in Brookfield, Wisconsin, R&M Rehabilitation, LLC is Kinex's largest distributor in the Wisconsin, Indiana, Illinois, Michigan, Minnesota and Iowa regions. Rehab works directly with physicians and patients to provide rehabilitation products to the patient's home following orthopedic surgical procedures.  For more information please visit: www.kinexmedical.com.
About Merit Capital Partners
As an investor of mezzanine debt and equity, Merit is both a lender and a shareholder, and is open to both minority and majority investments.  Merit considers many types of investment partnerships and is very comfortable "sponsoring" transactions, handling the entire investment process itself and supplying all necessary capital. In addition, Merit often works with small or fund-less sponsors by providing equity capital along with mezzanine financing to support larger investments that these groups may not be able to complete alone. Finally, Merit partners with large private equity firms on more traditional mezzanine investments.  For more information please visit: www.meritcapital.com.
About Provident Healthcare Partners
Provident is the leading investment banking firm specializing in merger and acquisition advisory, strategic planning, and capital formation for middle-market and emerging growth healthcare companies.  The firm has a vast network of high-level, senior industry contacts, a thorough knowledge of market sectors and specialties, and unsurpassed experience and insight into the M&A process.  Provident uncovers value and opportunities that others often overlook to create transaction premiums for its clients.  For more information visit the Provident website: www.providenthp.com.
Contact:
Provident Healthcare Partners
Gina Leone, Analyst
617-742-9800