Consolidation: A Growing Trend in Radiology
Many are likely aware of the transactions that have been led by large, publically traded multi-specialty companies such as AMSURG's $2.35 billion acquisition of Sheridan Healthcare in May 2014 or MEDNAX's $500 million acquisition of teleradiology provider Virtual Radiologic in Q2 of 2015, but these certainly are not the only groups utilizing mergers and acquisitions as a strategy to remain competitive in the rapidly evolving U.S. healthcare industry. Merger and acquisition activity has boomed within physician services in recent years, and while radiology has yet to undergo consolidation to the extent of other hospital-based subsectors such as anesthesia or emergency medicine, mergers and acquisitions have played a much more prominent role in recent quarters. In January of 2015, Ohio-based Aris Radiology utilized the capital resources of the group's private equity partner Great Point Partners to acquire Optimal Radiology, creating one of the largest groups in the country with over 160 board-certified radiologists. Also in 2015, Sheridan's partnership with AMSURG allowed the group to complete two large radiology deals with the acquisitions of Radisphere Radiology and Radiology Associates of Hollywood, respectively. Consolidation is also occurring in the lower-middle market, where the largest 100 independent private practices have grown substantially in recent years. Based on data from Radiology Business Magazine's Radiology 100, the median size of the top 100 private practice groups in the country has grown sharply, from 39 radiologists in 2013 to 47 in 2015, demonstrating a major industry trend of strength in numbers that seems to be gaining pace.
Drivers of Consolidation
There are many factors contributing to this emphasis on size, scale and access to resources within radiology, most of which have been catalyzed by healthcare reform and an overall shift in the U.S. healthcare system that places increasing importance on innovation, quality improvement, and cost containment. Ultimately, it is a mix of macroeconomic and industry trends, technological innovation, and increased private equity interest that have led to more widespread merger and acquisition activity.
Macroeconomic and Industry Trends
Similar to many other verticals within healthcare, radiology has faced declining reimbursement that has put financial stress on smaller practices. An often effective strategy for combatting reimbursement pressures is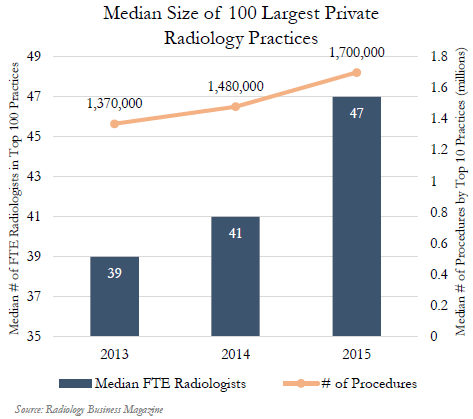 generating economies of scale, which allows practices to increase margins while top-line revenue growth slows. Economies of scale that arise in larger practices may result from combining back office functions, IT systems, revenue cycle management, medical practice insurance, recruiting processes and business development. In addition, larger practices often have increased buying power as well as greater leverage when negotiating contracts with hospitals and payors, which can partially alleviate negative reimbursement trends. The ability for practices to gain negotiating leverage and produce economies of scale will likely only increase as an aging baby boomer population and expanding Medicaid coverage unfavorably affect practices' payor mix.
In addition to declining reimbursement, hospital-based radiology practices are facing challenges that stem from consolidation in other areas of healthcare, most notably health systems and payors. The Patient Protection and Affordable Care Act has forced hospitals and health systems to place greater emphasis on cost reduction and overall quality of care, and this has led to a substantial uptick in hospital mergers and acquisitions. As hospitals consolidate as a strategy to further coordinate patient care and generate their own economies of scale, they have rising expectations for contracted physician partners. As a result, health systems are constantly evaluating the level of service provided by independent radiology groups and expect practices to align themselves with the cost-reduction and quality control measures of the system. This has yielded additional risk to radiology practices that if they do not invest in the desired IT systems, sub-specialty expertise, accessibility and quality-control measures, they may be replaced by a group that has. Adding to this risk is the expansion of large multi-specialty corporations, which have the capital and resources to invest heavily in aligning themselves with hospital initiatives while also offering the potential to bundle services. Payor consolidation such as the proposed Aetna/Humana and Cigna/Anthem mergers have only added to the necessity for size and scale, as these insurers will gain significant bargaining leverage by combining operations.
Technological Innovation
Radiology has always been heavily tied to technology, but healthcare reform has created a greater necessity for practices to effectively utilize advancements in IT that can lead to higher quality of care and better overall service to hospital partners. Healthcare IT is advancing rapidly, and ultimately, the radiology practices that are most successful will be those that are able to most effectively utilize the latest technology and consistently leverage innovation in order to improve quality metrics and reduce costs. Because technology is changing so rapidly within the sector, it is often too great of a risk for smaller practices to make these necessary investments because a newer, better system may come available in the near future and render their investment obsolete. Larger practices, in contrast, are able to spread the cost of these investments more broadly and also often have access to the resources needed to continually reinvest in the newest, most effective technology.
Private Equity
Private equity investment has also driven consolidation in radiology, and will likely continue to be a major source of merger and acquisition activity as new platforms are established within the sector over the next several quarters. These groups are investment funds managed by professionals who seek to provide capital and strategic guidance to companies in order to achieve rapid growth. While private equity investment in radiology has been slower to materialize than in other subsectors of physician services, an impact has already been made and will likely become much stronger throughout the next several years. Currently there are two primary private equity-backed radiology groups present in the United States. One is the aforementioned Aris Radiology, which is backed by private equity firm Great Point Partners and recently expanded through its acquisition of Optimal Radiology to become an organization comprised of over 160 board certified radiologists who provide services to almost 150 healthcare facilities. The other is Radiology Partners, the largest network of hospital-based radiologists in the United States with over 200 radiologists serving 7 markets. Radiology Partners was formed in 2012 as a partnership between private equity firm New Enterprise Associates and several former executives from DaVita. Since forming, the group has become the most active consolidator in radiology, having completed numerous acquisitions including Provident's former client Singleton Associates, P.A. in the Houston marketplace. Other practices that have joined Radiology Partners are Radiology Imaging Consultants, Imaging Associates of Indiana, Radiology Associates of Canton, and most recently Lake Pointe Radiology Associates in a transaction that closed in April 2016.
To understand the logic behind private equity's motivations for investing into radiology practices, it is helpful to examine what has occurred in the anesthesia marketplace, which is today comprised of several large private equity-backed players that emerged in large part in response to healthcare reform. While there are numerous private equity firms that have invested in anesthesia, the most dominant market participants are Northstar Anesthesia (TPG Growth), U.S. Partners in Anesthesia (Welsh, Carson, Anderson & Stowe), and North American Partners in Anesthesia (American Securities LLC and Leonard Green & Partners). These private equity firms, among others, formulated an investment thesis around anesthesia with the goal of building a large network of anesthesiologists that has access to capital, personnel, technology, and informational resources that result in enhanced financial performance, improved ability to meet healthcare reform requirements, and a sharpened focus on improving patient care. Joining these organizations offered (and continues to offer) independent anesthesia practices an opportunity to solve many of the challenges they had been facing with respect to declining reimbursement and rising hospital expectations, while still retaining a level of autonomy not possible through other options such as selling to a local health system or a large multi-national corporation. The aforementioned private equity-backed anesthesia providers continue to expand, which will eventually result in substantial equity returns for both the investors and physicians, who often become minority shareholders in the parent company after joining. Investor groups around the country have formulated a similar thesis and strategy around radiology, and will look to emulate the success of private equity-backed anesthesia groups in addition to the accomplishments of current private equity-backed radiology providers Radiology Partners and Aris Radiology.
Closing Thoughts
While it is impossible to predict the future, the rationale for consolidation in the radiology markets is extremely strong and leads Provident to expect that mergers and acquisitions will become increasingly prevalent within the sector throughout the next several years. The overall sentiment within the private equity community is that investors are going to continue aggressively pursuing platform-caliber radiology practices to partner with, and other large outsourced hospital physician groups have all expressed a desire to expand their market share in the specialty. As trends within the sector continue to favor large providers with scale, strong management, and access to capital, the consolidation and investment activity that has occurred is likely to be only a fraction of what will come in the near future.
To the extent that it is of interest, members of the Provident team would be happy to elaborate on any of these trends & provide specific insights on particular healthcare niches, specialties, and industry verticals. Please feel free to call (617) 742-9800 for additional information.