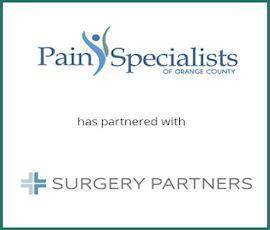 Pain Specialists of Orange County (PSOC) has partnered with Surgery Partners (NASDAQ: SGRY).  PSOC is a comprehensive interventional pain management practice with six clinical locations throughout Southern California   The Company also operates two Medicare certified and AAAHC accredited ambulatory surgery centers at its Mission Viejo and Irvine locations.   Provident Healthcare Partners served as exclusive financial advisor to PSOC.  The terms of the transaction were not disclosed.
"After 3 years of looking for the right partner for our business, Provident brought to us the most qualified financial and strategic partner and through its critical analysis, guidance and leadership was able to bring the deal to a close expeditiously," commented Dr. Gerayli, Founder and Medical Director for PSOC.
"PSOC's strong understanding of the managed care market and capitation model of healthcare delivery, and the Company's excellent reputation in the Southern California market, combined with Surgery Partners national outpatient surgical experience, makes Surgery Partners an ideal partner for PSOC," stated Steven Aguiar, Managing Director at Provident Healthcare Partners.
"PSOC is focusing on expanding its geographical footprint to strengthen its relationship with various IPAs and Medical Groups. Through this partnership with Surgery Partners, PSOC will be able to expand into the LA County market and beyond," noted Justin Hand, Managing Director at Provident Healthcare Partners.
About Pain Specialists of Orange County
Pain Specialists of Orange County was founded by Dr. Afshin Gerayli in February 2002 in Laguna Hills, California. The Company's pain management physicians and pain specialists provide effective non-surgical treatments for pain, under the highest standards of patient safety and competent medical care in a clean, safe and comfortable pain treatment environment. For more information, please visit http://www.spinalpainspecialists.com/.
About Surgery Partners
Headquartered in Nashville, Tennessee, Surgery Partners is a leading healthcare services company with a differentiated outpatient delivery model focused on providing high quality, cost effective solutions for surgical and related ancillary care in support of both patients and physicians. Founded in 2004, Surgery Partners is one of the largest and fastest growing surgical services businesses in the country, with more than 150 locations in 29 states, including ambulatory surgical facilities, surgical hospitals, a diagnostic laboratory, multi-specialty physician practices and urgent care facilities. For more information, please visit http://scasurgery.com/.
About Provident Healthcare Partners
Provident is the leading investment banking firm specializing in merger and acquisition advisory, strategic planning, and capital formation for middle-market and emerging growth healthcare companies. The firm has a vast network of high-level, senior industry contacts, a thorough knowledge of market sectors and specialties, and unsurpassed experience and insight into the M&A process. Provident uncovers value and opportunities that others often overlook to create transaction premiums for its clients. For more information, visit the Provident website www.providenthp.com.
Contact:
Provident Healthcare Partners
Gina Casiello, Senior Analyst
877-742-9800
###